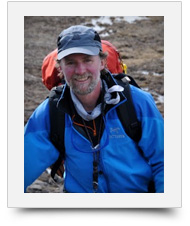 James Scoates
Professor of Igneous Petrology and Ore Deposits
University of British Columbia
My research focuses on the evolution of silicate magmas and integrates fieldwork, microscopy, experiments, mineral and whole rock geochemistry, radiogenic isotopic geochemistry, and geochronology. I have concentrated my research efforts mostly on (1) evaluating the formation of oceanic islands, oceanic plateaus, and other Large Igneous Provinces (LIP), (2) investigating the origin of mafic layered intrusions and anorthosites together with associated magmatic sulphide and oxide mineralization, and more recently (3) establishing high-precision U-Pb geochronology at the Pacific Centre for Isotopic and Geochemical Research (PCIGR) at UBC.
LIP-related projects have included Kerguelen, Hawaii, Wrangellia, and the Franklin LIP on Victoria Island, NWT. Projects related to mafic layered intrusions, anorthosites, and magmatic ore deposits have included Ni-Cu-PGE mineralization in the 1.27 Ga Muskox layered intrusion in Nunavut, Ni-sulphide mineralization in the Turnagain Alaskan-type intrusion in B.C., and Ti-oxide mineralization associated with Proterozoic anorthosite massifs in Québec. Advances in U-Pb geochronologic techniques have been pursued most notably through determination of precise crystallization ages and duration of magmatic activity for some of the most important mafic layered intrusions, including the Bushveld Complex in South Africa, Stillwater Complex in Montana, and Muskox intrusion.
My research interests include:
Origin and evolution of silicate magmas and mineralization potential;
Applications of geochemistry and isotopic geochemistry to problems in petrology and mineral deposit geology;
Physical volcanology and geochemical evolution of Large Igneous Provinces;
Origin of igneous layering and the development of layered igneous intrusions;
Petrologic, geochemical, isotopic, and geochronological aspects of Proterozoic anorthosite plutonic suites;
Origin of magmatic Fe-Ti oxide, Cr, Ni, and PGE deposits.