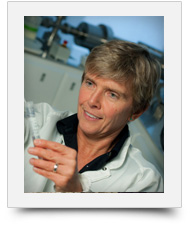 Dominique Weis
Professor and CRC in the Geochemistry of the Earth's Mantle
MAGNET Program Director
University of British Columbia
My main research themes involve the distribution of elements and isotopes in Earth systems with emphasis on the use of abundances and isotopic ratios in defining the source and evolution of igneous and metamorphic rocks, the interaction between different reservoirs (mantle, crust and atmosphere) and the role of tectonic settings. I am also interested in geochemical and isotopic studies of sedimentary rocks, global changes and reconstitution of past environments, the distribution of pollutants in natural and anthropogenic systems, the application of non-traditional heavy stable isotopes to environmental issues and analytical technique developments.
Geochemical constraints on mantle plume dynamics and structure:
Time integrated studies of continuous volcanic series on the Kerguelen and Hawaiian Archipelago and of submarine Hawaiian volcanoes;
High-precision isotope stratigraphy of the Hawaiian Scientific Drilling Project (HSDP), other Hawaiian sections and secondary volcanism;
Large-igneous provinces: Role of the Kerguelen Plume (Kerguelen Plateau, Broken Ridge, Ninetyeast Ridge), Wrangellia flood basalt province (Vancouver Island, Yukon & Alaska) and Victoria Island.
Environmental applications:
Si isotopes in soils as a tracer of CO2 storage capability;
Isotopic tracing of the Fraser River (Sr, Nd, Hf and Pb isotopic studies);
Pb isotopic study of particles collected in the English Channel area: determination and modelling of the anthropogenic vs. natural sources;
Historic Pb pollution in the Vancouver area: systematic study of Stanley Park trees;
Source(s) of the high Cd in BC oysters and other bivalves;
Iron isotope fractionation within atmospheric aerosols: tracing of pollutants vs. natural sources.
Analytical developments:
Systematic isotopic (Sr, Nd, Pb & Hf) and geochemical characterization of reference materials (USGS, CRPG, GSJ);
Application of heavy/non-traditional stable isotopes;
Experimental laboratory studies of isotope partitioning between phases.