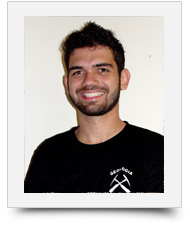 Luiz Felipe Salim Amaral

MSc student
Université du Québec à Chicoutimi
I majored in Geology at Universidade Federal de Minas Gerais (UFMG) in Brazil in July of 2013. I had the opportunity to work in remote areas of Brazil and around the Quadrilátero Ferrífero (QF) region (Minas Gerais/ Brazil), which is a global pole for iron and gold mining. Geological mapping, sampling process, trench and drillhole description are part of my activities. I also worked in two gold mines: as an intern at QF region at Anglogold Ashanti (Lamego mine), and as a mine geologist at Carpathian Gold at the Riacho dos Machados project. My current scientific interests are studying how ore deposits have been formed and associating the ore with the geology (petrology, mineralogy, geochemistry and structural). Economic geology, metallogeny, field work (geological mapping) and, especially, geochemistry are also my areas of interest.
It has long been recognized that many aspects of magmatic Ni-Cu-PGE deposits can be explained by the collection of these elements by a sulfide liquid. However, the role of semimetals in the collection and possible redistribution of the PGE has not been closely considered. In part because Makovicky et al. (1986) showed that PGM exsolve from sulfides during cooling and thus many workers considered the PGM to have formed by exsolution and in part because Cawthorn et al. (2002) found that the nature of the PGM in the Bushveld deposits did not affect the grade. In addition, these elements are not routinely determined in ores or host rocks due to analytical difficulties. New work suggests that this is not the complete picture and that PGM may form by a number of different processes. In my project I will investigate these issues, by looking at semimetal distribution in the Voisey's Bay, JM and Bushveld deposits.