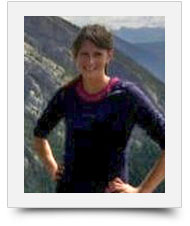 Anne Wozney

MSc graduate
University of Ottawa
I consider myself lucky to have grown up in Calgary, in the foothills of the Rocky Mountains, which have been my personal playground and probably the reason I took an interest in geology. I did my BSc. (Honours specialization) in Geology at the University of Western Ontario. My undergraduate thesis was a geochemistry project looking at the influence of organic carbon on mercury sorption to silt overburden at a mine site in Northern Ontario as part of broader project scope that monitored the cycling of mercury through the environment after landuse change.
My MSc. at Ottawa University will investigate different techniques for radiocarbon and stable isotope assessment at oil refinery and spill sites to detect CO2 efflux derived from decomposition of hydrocarbon sources, distinct from natural background soil respiration processes. Ottawa University's AMS (accelerator mass spectrometer) facilities will be used to conduct geochemical analysis. This project is co supervised by Ulrich Mayer (UBC) and Ian Clark (uOttawa), and this joint initiative will evaluate current techniques for industrial application.